Today's Book Report comes to us from Paige the (former) Page, a member of Wood Library's Teen Advisory Board. Paige is just wrapping up her Junior year, and I'm looking forward to hearing her sing along to
Les Misérables
later this month.
Without further ado, here's Paige's review of Elizabeth Fama's new novel
Plus One
.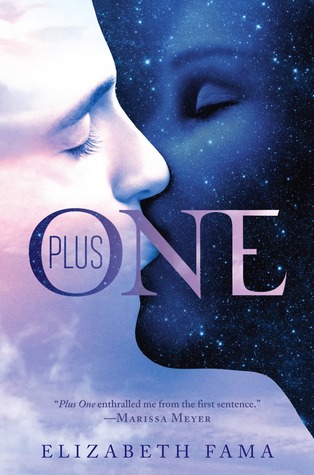 My rating: 4 out of 5 stars
What first enthralled me about this book was the cover. I mean, isn't it absolutely beautiful? When I saw it, I knew I need to know what was inside. I know, I know. Don't judge a book by its cover, but I had to recognize its beauty before I begin the proper review. Halfway through the book though, to my surprise, I had read a book by Elizabeth Fama, and hadn't particularly enjoyed it. Last year I read Monstrous Beauty hoping to find a good, clean mermaid young adult romance. I wasn't asking for much, right? Sadly, I was left confused and not particularly satisfied. In some ways, Plus One, left me wanting more and a tad confused, but I liked it a whole lot more than Fama's
last book
!
The book has a very interesting premise. Following the Flu Pandemic of 1918, society is divided into people that live either during the day, Rays, or those who live during the night, Smudges. This story is all set against the back ground of this dystopic Chicago. The Rays are allowed outside only during the day, while the Smudges only during the night. The Rays are exalted, while the Smudges are seen as inferior. This book tackles issues such as discrimination through this division of the Smudges and the Rays. Obvious a relationship between a Smudge and a Ray would be seen as taboo, forbidden even, which makes for a good romance.

I loved the main characters. Sol, a Smudge, was real and impulsive. She had real motives and deep loyalties that blinded her at times. She wasn't perfect for once. And I liked that. On the other hand, D'Arcy, a Ray, was perfect (in a swoon worthy way!) which I was okay with because Rays are supposed to "better." They're polar opposites.... almost like night and day.
Our main character firsts meet when Sol purposely injures herself so she can get into the hospital to steal her estranged Ray brother's baby so her dying grandfather, Poppu, can hold her one time. Sol falls under a Ray medical apprentice's care while she is in the hospital: D'Arcy. Soon he is entangled in her mischief and they are swept up in an adventure as they unearth a conspiracy that will rock their whole world.

This book was overall an enjoyable read, but it is not without its flaws. If you go into this book expecting romance of the bat, you will be disappointed. The romance doesn't start until about three-quarters of the way through, but you won't be disappointed! It's sizzling! But there are intercalary/flashback chapters that some times threw off the flow of the book for me. Fama's writing also at times tries to hard to be poetic than switches to frank, plain statements. This book is a little choppy. Also, everyone speaks French? But it's set in Chicago? That really confused me. In addition, the tech talk and the medical talk was nonsense to me. It wasn't needed. I also wished the ending gave me more. I loved these characters and felt a tad robbed.
I feel though the good outweighed the bad I have mentioned thus far in Plus One. This book is worth the read and deserves a chance.
Happy Reading!
PG